Miss Gold Coast is a part of the Miss Connecticut Scholarship Organization, Inc. – supporting the advancement of women in society by embracing diversity, education and civic action. The organization invests in the women of Connecticut to further their education and provides a platform to propel their futures.  I will be competing in the Miss Connecticut competition this April! I am beyond excited to embark on this journey and am so grateful to have this opportunity. Throughout this year, I will be working with organizations that help bring positivity into the lives of children battling critical illnesses.  Like my Facebook page to follow me along on my journey and the road to Miss Connecticut, as well as my impact with Nick's Courage: One Smile Goes a Mile.
My brother Nicholas was only two years old when he received his Leukemia diagnosis, the next four years of his life he battled harder than anyone I know. Nick showed my entire family and me what it meant to be truly courageous and to be a hero. Battling pediatric cancer is hard on so many levels; it takes away a part of your childhood that you can never get back. For these kids it replaces what is supposed to be youth sports and playground fun with surgeries, prescriptions, and hospital rooms.
Why Me was there for Nick, to bring fun and lighthearted events back into his life. Through their Family Fun events, Nick got the opportunity to play and have fun like a kid again. For me as a sibling, I got to meet other families and siblings of children with childhood cancer which served as a beautiful reminder that Nick and my family were never alone in his fight. Nick and I's favorite event to attend through Why Me was Spree Day. Every year we got to go to the 200 Sportsmen's Club and compete in activities such as fishing, archery, and shooting BB guns. This event brought out my family's competitive side and brought so much laughter and joy into our lives. The most magical event though is the Holiday Party, which was an event we had the opportunity to attend every year around Christmas time. What blew me away the most as a child and still to this day, is that every single child, including siblings that attended the Holiday Party received a Christmas gift. It brought so much joy to everyone there.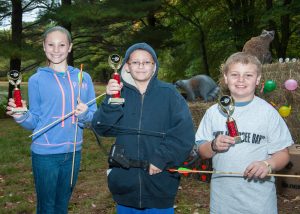 As Miss Gold Coast 2021, I want to give back to Why Me for all of the joy they have brought into my family's life and all the joy they continue to bring into the lives of others. Through my social impact initiative, as part of the Miss America organization, Nick's Courage: One Smile Goes a Mile; I will be hosting a series of raffles on my Facebook page. I hope that you will consider purchasing raffle tickets as all the money will be donated directly to Why Me. If you are not interested in purchasing raffle tickets, you can donate directly to Why Me's website. Thank you so much for your kindness and generosity.
Sincerely,
Ashlyn Mercier
Miss Gold Coast 2021