Rihanna's story
In September 2013, three-year-old Rihanna was diagnosed with leukemia.  Her parents did not know anything about the disease except that it was life threatening.  Just two months prior her mom had given birth to a baby boy, making Rihanna's diagnosis even more stressful.  They had to make life altering medical decisions for Rihanna while also giving Roddiel the attention he needed.
Rihanna immediately started chemotherapy treatments and began receiving blood and platelet transfusions.  She was handling treatments well and maintained her same spunky personality.  After having chemotherapy injected directly into the cerebrospinal fluid via lower spine, Rihanna began to experience severe pain.  Then she began to have seizures and suffered a cerebral edema.  She was in coma and doctors told her parents that she would not survive.  After two months in a coma, with her eyes still closed, Rihanna began to move her fingers – it was a miracle.  It was confirmed that she had a stroke, thrombrosis, hydrocephalus and a cerebral edema.  Their once energetic daughter was now suffering from paralysis and her parents were told there was nothing more the doctors could do.
Her family immediately uprooted their lives and traveled from Puerto Rico to Boston, for treatment at the Dana Farber. They left everything behind for the chance to save Rihanna's life. They arrived in Boston where a specialized treatment plan was made that would last for nearly two years. In 2014, they moved into Sherry's House where they spent a few years managing Rihanna's care and building a new life for themselves in Worcester. Rihanna's father got a job at TJX Companies where he works hard to provide for his family.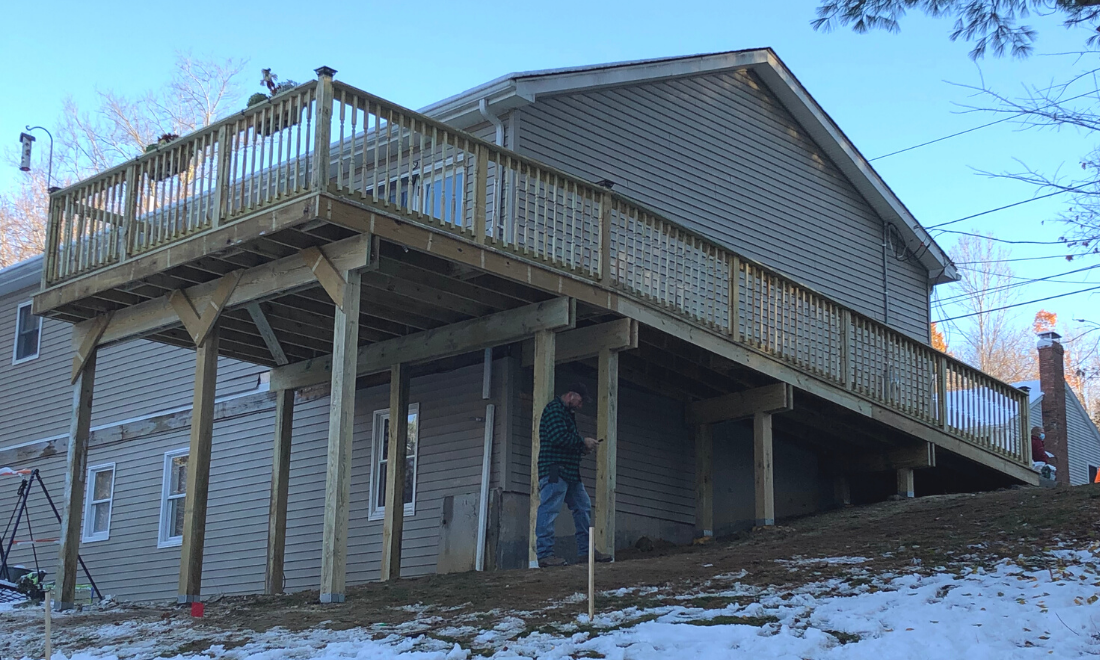 Consigli steps up
This March, her family purchased a home in Spencer that was not wheelchair accessible. While her father has put in a lot of work to renovate the home, building a wheelchair ramp was too big of a job for him. Over the Summer, Why Me reached out to Consigli Construction for help.   They were happy to  jump in and help with getting materials donated through local vendors and putting a group together to build the family a wheelchair ramp.  Throughout the duration of this project, 35 Consigli volunteers assisted in completing the ramp, helping the family be more comfortable and have more freedom in their new home.
This project would not have been possible without the help from Consigli's partners at Ashland Lumber, Colony Hardware, Dauphinais Concrete, & Karp Building Supply donating materials.  A big thank you to the following Consigli team members for donating their time and skills to help Rihanna's family:
Dan Alden, Mike Boucher, Jon Burton, Peter Capone, Michael Caputo, Anthony Cheschi, Mike Collins, Lewis DeJesus, Ed Demars, Dan Donahue, David Estella, William Feraco, Mark Finnegan, Pat Flanigan, Jon Gagliardi, Steve Gentilucci, Adam Gordon & Sons: Jacob, Aidan & Colin, Matthew Guimond, Mike Hanlon, Dean Hanson, Mike Haseltine, David Kutz, John Laperle, Gabe Mater, Jack Moran, Janice Narowski, Duarte Pacheco, Cam Patch, Jon Potter, Kyle Raposa, Mark Sanchioni, & Jeffrey Scannell.