December 2022
Dear Friends,
Ten years ago, I lost my four-year-old daughter to Leukemia. Sophia was an absolute ray of sunshine. The youngest of my three children, she was carefree, kind, thoughtful, and adoring of her older siblings, Ethan and Hannah. Upon Sophia's diagnosis, our lives became fraught with uncertainty. Our world turned upside down emotionally and financially.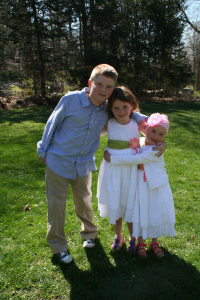 We were a Why Me family for the seven months that Sophia was on treatment before her unexpected passing – attending the Holiday Party and Easter Egg Hunt and participating in the parent support group. We got by with the support of our community, but once Sophia was gone, we worried about what support, if any, would still be available.
There's this saying you hear around Why Me, "Once a Why Me family, always a Why Me family," and it rang true. We were given bereavement support, not just for my husband Eric and me but also for the kids. We met other bereaved families, and our children formed life-long bonds. This support was pivotal in our healing.
Five years ago, I joined Why Me as the fundraising manager. This August, I became the Executive Director and now oversee the creation and maintenance of programming that was helpful to our family, bringing me full circle with the organization. Hospital visits with coffee and donuts, the presents that showed up when Sophia landed in the hospital right before Christmas, and all the small things in between, were such a relief to us and continue to be for other families like ours.
I can assure you that a childhood cancer diagnosis leaves an impact that lasts a lifetime. Just think of the difference you can make! Every clinic visit, support group meeting, and family fun event would not be possible without our extended community of Why Me supporters.
My family is just one of over 800 that Why Me has supported in the last 37 years. You can be a part of continuing to create special memories and new support services through a gift to Why Me. Please take a moment and read through our annual appeal, highlighting a few of our families and their personal journey with childhood cancer.  It also includes some of our family events and fundraisers from the last few years and some dates to note for 2023. Consider making your tax-deductible donation to Why Me here, or mail in your contribution to us at 1152 Pleasant Street, Worcester MA 01602. Please note Annual Appeal in the comments section.
By supporting Why Me, you are investing in our future, so we can continue to help children like my Sophia. Best wishes to you and your loved ones for a happy and healthy holiday season.
Warm regards,

Rebecca Kuczarski
Executive Director
"For there is always light, if only we're brave enough to see it. If only we're brave enough to be it." – Amanda Gorman, The Hill We Climb