Touch the Tower
Fun Run/Walk
March 22, 2017
Andy Sharry and his family have been supporting Why Me and Sherry's House for over a decade. He was first introduced to Why Me in 2000 when he and his father ran the Bermuda Marathon to support Why Me, specifically raising funds to build Sherry's House.  During the first couple years running for Sherry's House, he and his family raised over $20,000 through various running and fitness events.  Recently,  he's renewed for passion for supporting Why Me and Sherry's House.
 In 2015 Sharry began working as the Health and Wellness Director for Worcester Fitness, where he introduced the team to Why Me.  "Worcester fitness is a great fit for me.  They are a pillar of the fitness community in Worcester and are very invested in giving back."  Sharry explains.  Worcester Fitness hosts many fundraising and charitable events throughout the year.  As the Worcester Fitness running team coach, Sharry saw an opportunity to once again utilize his love for running to benefit Why Me.  
In June of 2016 Worcester Fitness hosted the first Touch the Tower event in support of Why Me. The First Wednesday of each season the gym invites running/walking groups from across Worcester to participate in a 4 mile round trek to Bancroft tower, starting at Worcester Fitness.  The event is open to the public and participation at any fitness level is encouraged.  "Connecting people is my passion.  I really wanted to create a community event that anyone could participate in." Sharry states.
There are no time clocks and participants can run or walk.  Leashed dogs and baby strollers are welcome.
Donations to Why Me are encouraged but community and awareness is just as important to Sharry.  " I love to facilitate opportunities for humans to interact in positive ways. I can't think of  better way to bring a community together than going for a run [or walk] to support these kids."
The first Touch the Tower event brought together over 100 people and raised over $1200 for Why Me.  The group has held the event each season and hopes to expand participation in 2017.  Sharry shares, "The run is uphill and by the time you get to the top your legs are feeling it.  Then you see these kids, like Kya -who lost her leg to cancer- who have to work hard everyday to stay healthy.  It really puts it all into perspective."   Sharry remembers that at the June 2016 event Kya was in need of new crutches that were not covered by her insurance.  "We tallied the money at the end of the day and we knew our donation would go directly to help get Kya what she needed.  That is a pretty rare and special opportunity to see your donation help someone so directly. "  
Sharry hopes that by keeping the event casual, with no time clock or registration fee, participants can focus on the experience rather than their time and the funds will go straight to the families who need it.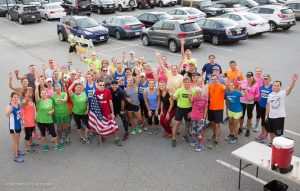 Join Danielle, Director of Family Services, as she leads a team of Why Me walkers to Touch the Tower.  All walkers/runners welcome.  To join our team contact Danielle at dperron@whyme.org
Touch the Tower #4 fun run/walk  
Worcester Fitness | 440 Grove St, Worcester, MA
March 22, 2017
Walkers will start at 5:45, runners start at 6:00
Can't attend but still want to  donate