Our first Vacation Fun Camp took place six years ago.  We took notice that families who have a child with cancer often don't have the time or flexibility (with cancer treatment schedules) to go away for vacation.  Going to a local museum is a nice idea, but when your child has a compromised immune system something as simple as a cough can put a child battling cancer in the hospital for weeks.
Families look forward to our Why Me School Vacation Fun Camp, knowing their child (and his/her siblings) will have the opportunity to participate in fun activities in a safe and familiar environment.  Additionally Sherry's House is ever mindful that many of these children are immune compromised and so it brings parent's confidence knowing that the air filtration system at Sherry's House utilizes both HEPA filters & ultraviolet radiation (UV) to eliminate airborne microorganisms and spores, specifically designed with these delicate immune systems in mind.
Not only do these vacation camps offer our families a chance to socialize outside of the hospital, but it gives parent's a peace of mind knowing they can do so in safe, clean setting.
We always enjoy seeing many familiar and new faces during vacation camps at Why Me.  This February Fun Camp was no different, as our arts & crafts room was packed full of kids.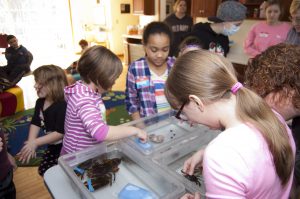 On Tuesday, February 21st we kicked off camp with a visit from Mystic Aquarium and their traveling touch tank.  This was a great experience for the kids to touch/hold some snails, crabs and a lobster. We ended the day with a fun craft where each child got to make their own mason jar aquarium.  It was fun to see how different each one came out.  Some were filled with glitter, others were as dark as the ocean at night.  Overall the kids had a blast learning all about ocean life.
On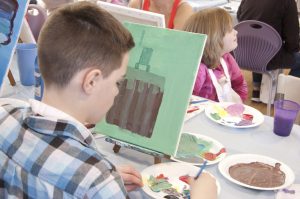 Wednesday, February 22nd Just Paint led a fun cupcake themed painting activity.  The kids had a great time and got quite creative with their paintings.  After everyone finished we then decorated and enjoyed homemade cupcakes.
For our final day of Fun Camp we held movie night on Thursday, February 23rd.  The arts & crafts room at Sherry's House was packed with families ready for a showing of Secret Life of Pets on the big screen.  The kids were treated to amazing face painting courtesy of Face Painting by Christine Z.
Thank you to all of our visitors, volunteers, and Why Me families who attended. View all of our February Vacation Camp photos here.