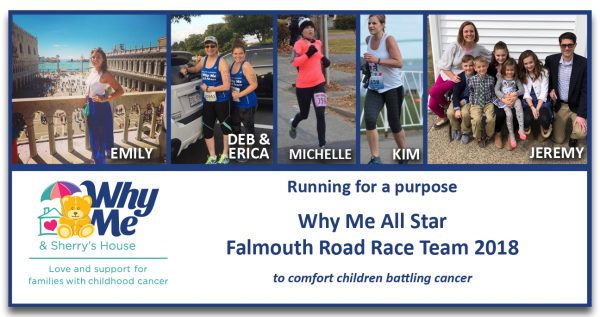 In just under a week, on August 19th, in the heat of the summer 6 runners will be running the Falmouth Road Race for Why Me & Sherry's House. Sponsored by New Balance, the race is one of the showcase events in distance running and woven into the fabric of summer on Cape Cod, like Fourth of July fireworks and Labor Day weekend cookouts. Each Why Me runner was asked to fundraise a minimum of $1,000 to help support our programming.  If you would like to help our runners reach their goals click here to donate and write the name of the runner in the comments section.
Deb and Erica: Deb and Erica are the mother/daughter duo of the Why Me team. They have run the Falmouth Road Race for the last 3 years but their involvement with us began long before that, over 12 years ago.
When my daughter Erica was 12 years old, she selected Why Me for a community service project. We came in for an initial tour and were so impressed and moved by what we saw and heard that Erica wanted to start volunteering that day! She began shortly thereafter – helping to clean and neaten Sherry's House to provide a comfortable and sanitary setting for the children and their families.
We cannot begin to fathom the magnitude of emotions and physical, financial and logistical effects that a childhood cancer has on a child and their family. However, from our exposure to Why Me, we have come to understand and appreciate the range of services and the amount of caring, love, community support and financial assistance that they provide to families battling a childhood cancer.
This is our 4th year running the Falmouth Road Race for the Why Me team. We will be thinking about the children and their families as we run the 7.1 miles from Woods Hole to Falmouth. We imagine that the strength and determination we will exert on race day is what the children and their families must put forth every single day. The support of our donors has always been the wind at our backs, easing our efforts; we hope that their generosity also helps lighten the burden – at least a little bit – for the children and families who are supported by Why Me.
Emily: My name is Emily and I am a resident of Shrewsbury, Ma. I am a fourth grade elementary school teacher. The reason why I am running for Why Me is because back in high school I was able to see firsthand the great things that Why Me does for families with children battling cancer. I had to do volunteer hours for a class and decided to give my time to Why Me organizing the food pantry. When I was done I was allowed to go outside and play with the children. Every single child had a smile on their face and I enjoyed every time I got to go and volunteer. Why Me is a fantastic organization that looks to help others. When I noticed they were on the list of charity teams I reached out right away. I have wanted a reason to get back into running and what better way to do it then running the Falmouth Road Race for a great cause. I have started training and will be ready for August 19th!
Jeremy: I am fortunate to have chosen a profession in life science research field where I am able to work on developing new technologies that enable advances in discovery and development of new treatments and therapies for cancer. The cancer research community has made significant progress in understanding the basis of tumor development and progression and while I remain steadfast in my belief that these discoveries will translate into new and safer treatments, I want to help families who are facing the battle with cancer today. I am running for the Why Me & Sherry's House in memory of friends and love ones who have provided inspiration to me and my family.
Kim:  I work for Whittier Rehab Hospital as a Clinical Liaison and too often I see the emotional, financial and physical stress an illness can bring to patients and their families. I am running for a charity that I know will help ease that stress and the money I raise will help Why Me to continue to help and support these children and their families.
Michelle: Hi! I am Michelle and I am running the Falmouth Road Race for Why Me. I love running and what better way to help support this wonderful organization?! I believe in what Why Me does and stands for. I run because the money I raise will help them continue helping families.