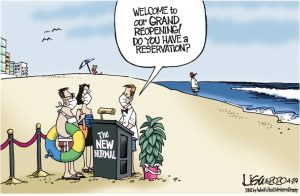 The Covid-19 pandemic has changed much of how we live our lives – and seemingly overnight. Before the shutdown, business owners almost universally told me they were having their best year ever.  I , myself, was looking forward to several performance dates with my band, a new hiking adventure in British Columbia with my boys and some great family fun events at work. All at once, everything ground to a halt as each of us struggled to adjust and make sense of events that evolved daily. Each day felt less and less familiar and plans that felt unchangeable just a week before were now cancelled. Parents and other caregivers tried to find the words to explain to children that which they themselves did not fully comprehend and offer comfort while feeling very unsettled. This was not just a regional or national disruption but a global crisis. While the pervasive effects of this pandemic are unique for most of the population, they are eerily familiar to families that live with childhood illness.
For families living with childhood cancer, one day everything is the same, and the next, everything has changed. The plans you made, your schedule and commitments are all on hold. The routine and rhythm of life provide familiar stability, which is comforting. When that routine is gone, we instinctively know something is very wrong. Fear and anxiety become new companions. Does this sound familiar? If you are a family living with childhood cancer this is exactly what happens. Even after you adjust to the shock of diagnosis and to the many ways life has changed, you realize that you have daily decisions to make that the rest of the world cannot understand. You are always weighing the risk and benefit of simple outings. If your child is immune compromised they cannot come with you to the store to go shopping and get out of the house. They cannot go to a party or to the movies. You might get sick from being around other people, and the risks are too great to outweigh the benefit. This is very isolating. I have been struck by how many of our families have remarked, "Now the rest of the world knows how we live."
For those of us who have endured long hospital stays with our kids or lived through months in "isolation" for a bone marrow transplant, the outside world is risky. We watch people touch their faces and cough. We travel with hand sanitizer. We get angry with people who go to the store with a child with chicken pox because "well, everybody gets it". These are risks to our children's health. Therefore, this current health environment is all the more risky for our families because they are a "high risk population with underlying health issues". This virus and the resulting loss of routine triggers a kind of PTSD response in our families because it harkens back to our only other experience of such loss when something was very wrong.
So what do we do with these feelings? How do we cope, and what can we learn from the experts on disrupted lives? No, I am not channeling Anthony Fauci, I mean our kids. When I meet newly diagnosed families, I tell the parents to follow their kids' lead. Children live in the moment. They do not project. They do not worry about what was or what will be. That is the secret; be present, be grateful for simple things, and find joy wherever you can. Make the most of whatever we have and remember that you may find joy by helping someone else find it. Children are experts at this, and they will show us all the way if we let them. Personally, I hate the phrase "new normal" because to me it surrenders to the status quo and admits powerlessness. We will have our lives back and we will get there with grace, dignity, joy, and kindness.
Why Me and Sherry's House exist to facilitate personal connections and support for families with childhood cancer. We have had to find new ways to re-imagine these connections and support. Here are some of the ways we have moved forward.
Since mid-March, we have maintained relationships with our families through email and phone calls.  We have offered non-perishable food and essential items from our pantry to our families.  We provided bags of "summer fun" to help bring a few extra quarantined smiles to our younger children.  All of our support groups have gone virtual- because childhood cancer is isolating enough without a quarantined pandemic.  We have continued to think outside the box for other ways to help make families smile and create a few fun memories along the way.  In June, we hosted a virtual trivia night and a drive-in movie night with all social distancing protocols in place.    It was so great to see the families at the drive-in movie and everyone said, "This feels so normal!" We are doing eve
rything we can to continue to support the families who need us most right now while remaining committed to their overall health and safety.  In the coming months we will continue to provide support to families as needed.  We also have some new family fun events in the making over the coming months that will continue to help us provide special memories for our Why Me families.
– Written by David Hagan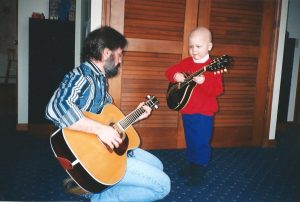 David began his relationship with Why Me in 1994 after his son, Ben, was diagnosed with leukemia at 19 months. When Ben succumbed to his illness in 1996 following a bone marrow transplant, David began coming to the Circle of Healing bereavement group and never lost touch with his extended Why Me family. In 2006, he became a full time volunteer and eventually  joined the Board of Directors.  David became the facilitator for the bereavement group, which he still runs and currently serves as the Executive Director.