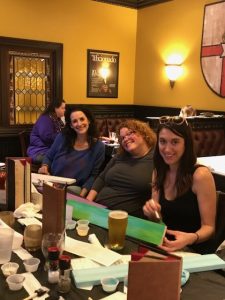 Monday evening 21 moms gathered at the British Beer Company on Shrewsbury Street to enjoy a mom's night out funded by the Why Parent Support Fund.  The night began with lots of hugs that quickly turned to lots of laughs and even a few tears.  Many of these mom first met years earlier as their children began treatment for their cancer.  Some were meeting for the first time and others were reuniting after loss. While Why Me hosts both a monthly parent support group and a monthly bereavement group, all of these moms are rarely in the same room. As Why Me programing has increased over the years and social media allows parents to keep in touch outside the house, families are much more aware of each other's ups and downs.  From this, there has been increasing interest in social events that bring everyone together.   "Events like this, with a mixed group of moms, allows us to take the label off what various journeys we have walked with our "sick kids".  We can just be a mom with her friends." Explains Stephanie Fontaine, mom of Kailliah – both mother & daughter are cancer survivors.   
The moms gathered with Erin Giza of Life Expressions Decor, to create a custom decorative wall sign with sayings like "When there is rain look for rainbows. When it is dark look for stars." The sentiment of these words, for this group, was not lost on Giza.  "I received a new shipment of that quote this morning.  I had a feeling it would resonate with this group." Giza shares as she circulated the room teaching techniques and listening as the moms shared stories.
Giza has been volunteering at Why Me events for years and began hosting Life Expressions Decor events in 2016.  "I love the idea of getting friends, family, and strangers  together for a good time relaxing and crafting!  I really enjoy seeing everyone talk about the phrases they choose as a lot of sweet, and even sometimes sad, stories come out of it."
As a Why Me volunteer Giza has cooked meals, helped with childcare and donated goods. She, like most people, connected with the mission of Why Me after her own personal experiences with friends and family going through cancer treatment.     "When Robyn reached out about helping with the event, it was an immediate yes!    I heard about Why Me when I was a child. My best friend's father had been a long time supporter and frequently ran marathons to raise money.  From the minute I heard about Why Me I knew I wanted to support it too!  Throughout my years I have seen family members lose or beat their battles with cancer, and the thought of a child going through everything that comes with a cancer diagnosis breaks my heart even more, especially now that I am a mom." Giza
All parents need nights out like this, but it is especially difficult for parents of sick kids to get out and do something for themselves.   It can be a real hardship for parents to spend  money and time away from their sick kids.  At Why Me events, parents know they will be taken care of and surrounded by other parents who get it.  When the phone rings and a mom jumps, all of the moms know the panic she is feeling.
 "I would love to see more social outings like this.  It's important physically and mentally for moms/dads to take time out for themselves while dealing with a sick child. It also allows for much needed socialization between moms without disruption"shares Fontaine. The bonds of friendship that are formed between parents during what can be such an isolating time are a lifeline to these parents.  Having the opportunity to connect with other parents who just understand is invaluable.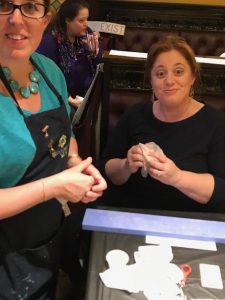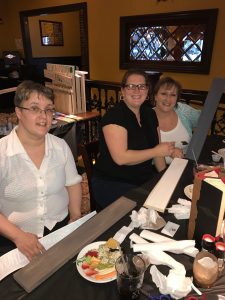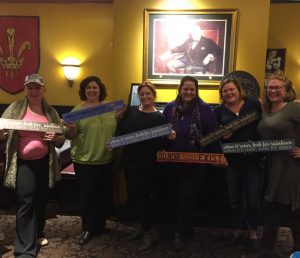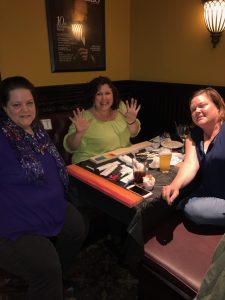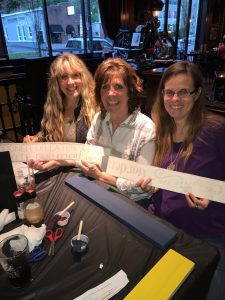 To participate in our next family fun event or to inquire about donating in support of events likes these please visit: https://whyme.org/get-involved/
A father's day outing is planned in the month of June please email  dperron@whyme.org for more information.