Started in 1989 by Why Me's first director of family services, Margaret White, the "You Gotta Have Heart" Dance is Why Me's longest running fundraising event.  Margaret hosted the very first Heart Dance to celebrate the life of her son Jason and raise vital funds for Why Me.  She created the event to bring people together while honoring the legacy of her son, who passed away in 1983 from Leukemia.  All of these years later the Heart Dance remains a time to honor the past and embrace today, just as Margaret always did.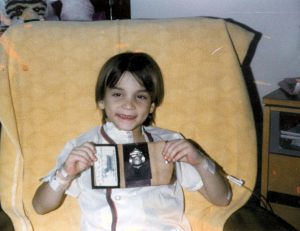 "Margaret had a way of bringing people together and making everyone feel like they were the only one in the room." says Danielle Sikonski, director of family services at Why Me and Sherry's house.  
Each year a Why Me child is honored during the event's live auction. The live auction gives that child the chance to share their talents or interest, showcasing their life outside cancer.  Their talent, sometimes a song, a book, a piece of art, is then auctioned to the highest bidder.   The winning Ambassador has their name engraved on a plaque which hangs in Sherry's House, as well as, an open invitation to Why Me events throughout  the year.  Above all they express the joy of honoring that child and supporting the future of Why Me programs.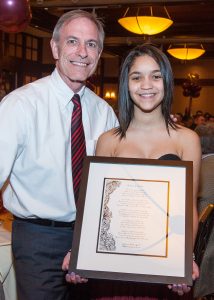 The 2015 Why Me Ambassador, Jim Murphy has won the title many times.  Jim explains that the experience is surreal each time.  It is set up like a typical live auction, only they are bidding on the experience and talents of the child.   "These kids and their families have been through so much.  We love seeing the kids express themselves." Jim goes on to explain that during the auction the whole room is showing their love and support for this child. As an Ambassador he feels a special connected to the child and family.  He enjoys checking in with them throughout the year to see how they are doing and offers his support.  "It is important to me that these kids know there is another person, another family, who care and think about them.  They are going through so much but they are resilient and ultimately just want to be kids."
This year's auction will include a vocal performance by 11 year old Tiffany.  Tiffany was diagnosed in July 2016 with Rhabdomyosarcoma and says singing is what helps her get through.
Join us at the 28th Annual "You Gotta Have Heart" Dinner & Dance on April 22nd at the Beechwood Hotel starting at 6pm.  Evening to include live & silent auction, raffle, games, dancing to live music by The Continentals, buffet dinner, Why Me child guest of honor and so much more! Tickets are $50 each with a limited availability.  Call us at 508-757-7734 to inquire, tickets will not be sold at the door.  This evening is generously presented by The Hudson Eagles Aerie 643
Questions?  Contact Danielle at dperron@whyme.org or call 508-757-7734.